For further information, please select the relevant service.
Use our Online-Service to make an appointment and specify the service you require.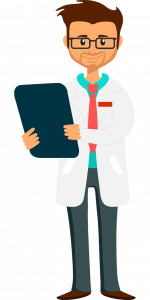 We want to avoid long waiting times. We therefore ask you to make an appointment using our Online-Service. In urgent cases you can also contact us on 06151-14357. Please understand if there are delays due to emergencies.
If it is a life-threatening emergency, please call 112!
Please keep your insurance card in mind when you visit the doctor.
If you are not able to come to the practice on your own, we will of course make house calls. Please register a required home visit in good time. To do this, share the complaints and their duration. A blood sample and a vaccination can also be carried out during a home visit. In consultation with Dr. med. Ortwin Eisert it is decided whether a home visit can be carried out. Please understand that not all examinations can be carried out at home (e.g. EKG, ultrasound, etc.).
In over 17 years as a senior physician at Nieder-Ramstädter Diakonie, Dr. med. Ortwin Eisert has gained a wealth of experience in the treatment, interaction and communication with people with intellectual and multiple disabilities. The practice team is sensitized to the sometimes challenging living conditions of the patient and is available to advise on all health issues.
| | |
| --- | --- |
| Mo. | 08:30 - 13:00 Uhr |
| Di. | 08:30 - 13:00 Uhr |
| Mi. | 08:30 - 13:00 Uhr |
| Do. | 08:30 - 13:00 Uhr 16:30 - 19:00 Uhr |
| Fr. | 08:30 - 13:00 Uhr |
© 2022, Dr. Ortwin Eisert.